Restore inner balance with our Inner Balance cleanse. Our Organic cold-pressed juices (100% Clean Label) are packed with nutrients and antioxidants to help you feel refreshed and rejuvenated.
A gentle cleanse, perfect for beginners

Perfect after a big weekend or prior to a big event

Daily 5 juices, 1 alkaline water, 1 Almond mylk (375ml bottles) and 1 Wellness Tonic Shot (40ml)
Regular price
Sale price
$79.00
Unit price
per
Sale
Sold out
In stock
Is this really necessary?

When we are depriving our body of alkalising foods, we have to pull those important minerals from our bones, teeth and organs – compromising ourimmune system, causing fatigue and making us vulnerable to disease.The combination of alkaline properties and vital nutrients in our juices can improve immunity. Each juice is great fora sustained energy boost, unlike the temporary rush from caffeine or sugary drinks.

This Organic Alkaline Juice cleanse program includes a daily menu of fresh, organic juices that are alkaline-rich, along with a recommended low-intensity exercise regimen and lifestyle practices that promote healthy habits. The program typically runs for a specific number of days, ranging from one to seven days, depending on the individual's health goals and needs.

The Home Juice Organic Alkaline Cleanse has been specially designed to infuse your body withalkalising ingredients, so you can get the nutrients, minerals, vitamins and goodness your body craves.

Overall, the Alkaline Flow Organic Juice Cleanse/Detox Program can be a powerful tool for improving overall health and well-being, supporting the body's natural detoxification process, and promoting healthy habits that can last a lifetime.
When Can I Start My Cleanse?

1- Day Cleanses can be started on Monday, Tuesday, Wednesday, Thursday, or Friday.
3- Day Cleanses can be started on Monday, Tuesday, Wednesday or Thursday.
5-Day Cleanses can be started on Monday ONLY.


Due to the perishability of our juices, you MUST start on the day you pick it up / it is delivered OR the next day.

Please state when checking out which date you would like to begin your cleanse. For pickup or delivery in line with the above days, you MUST order by 5pm AEST the day prior.

**PUBLIC HOLIDAYS** - We do deliver on public holidays as well, so if you have prior arrangements regarding your order, please let us know via email.
Shipping Options

Cleanses can be started on:

3 Day - Monday to Thursday 
5 Day - Monday Only

FREE Shipping - Free shipping on all orders above $199 throughout Victoria and $18 shipping fee for orders under $199.

Melbourne Metro - we offer same day delivery on orders placed before noon. Deliveries will be made between 2pm - 8pm.

Melbourne Regional - we offer next day delivery between 8am and 5pm for all Melbourne regional orders

Store pick up - you can pick up your juices from our store located at Shop 4, 699 Collins St , Docklands.
View full details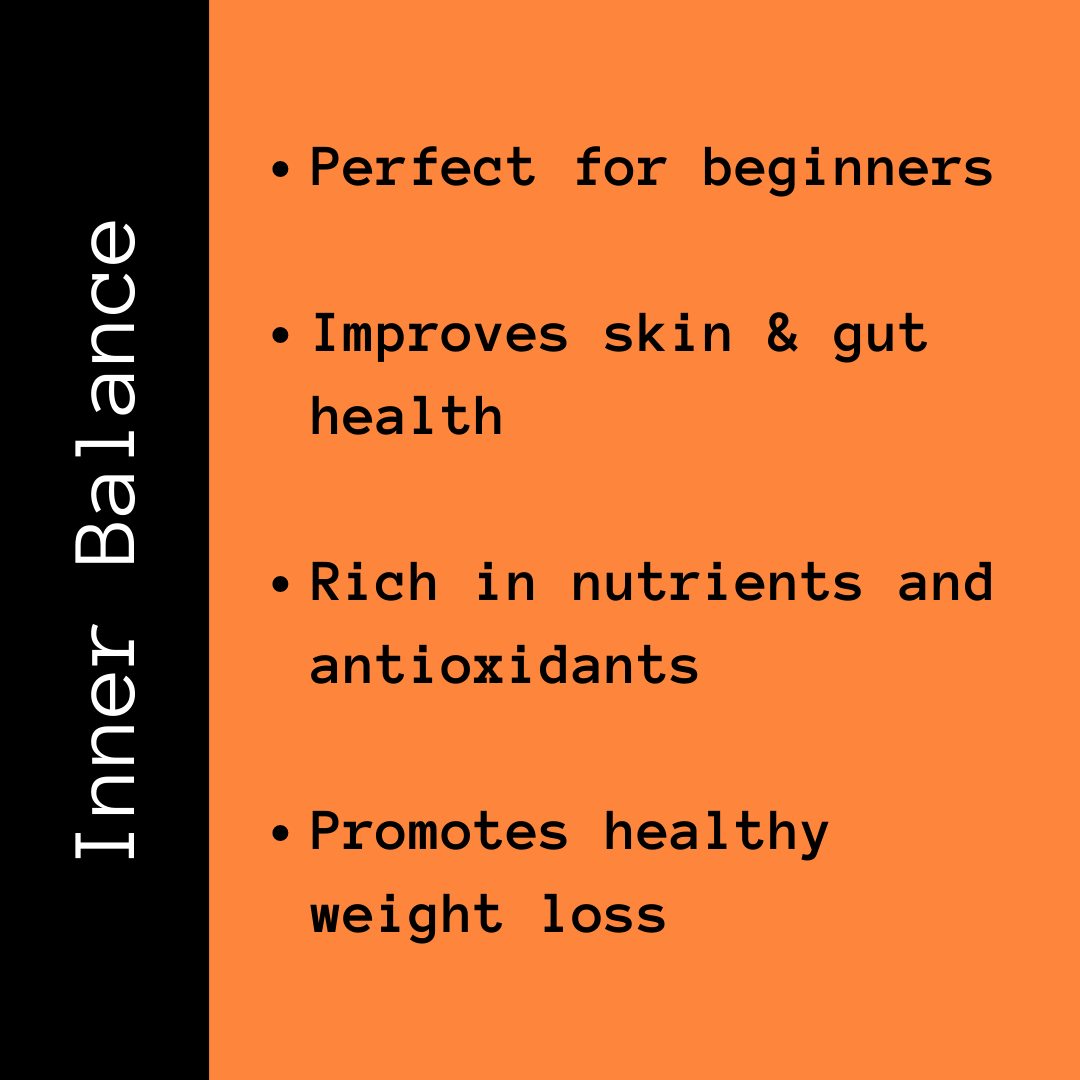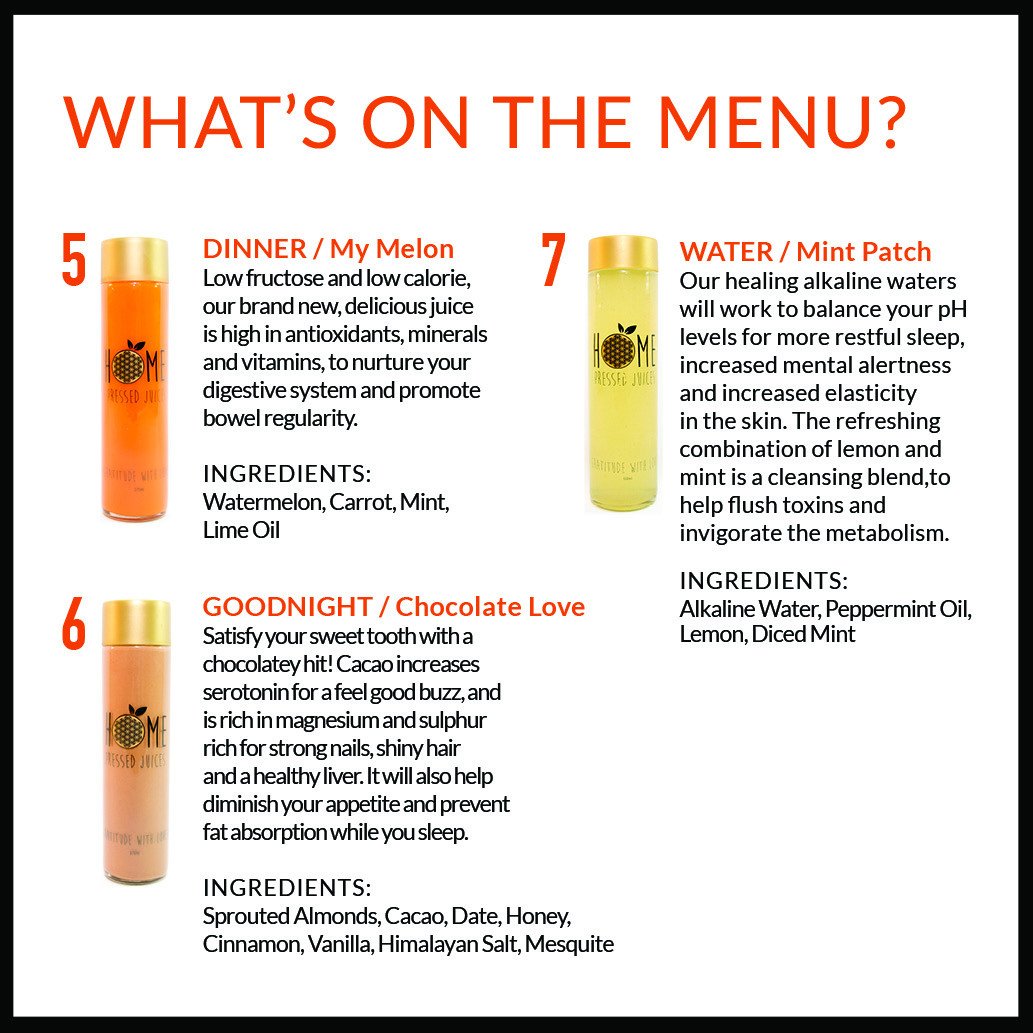 How a Cleanse Works
Each cleanse comes with 2 menus, each menu containing 5 juices and 1 alkaline water which are to be consumed every other day.

We've created 6 intervals during a 12 hour day. Starting with breakfast and ending with dessert.
FAQs
Do you accept returns?

Due to the perishable nature of the products, we cannot accept returns.

If you have encountered the product to be damaged or not in a state to be consumed, please contact our store on 1300 464 729 (1300 GOH RAW) for any further discussion.

Please ensure that you are able to collect and refrigerate the products as soon as they have been delivered to ensure freshness.
How do I get my cleanse?

All of our orders come with cooler bags to maintain a cool temperature while in transit. We have two options; store pick up or delivery via courier.

Delivery - We deliver Sunday - Thursday between 2pm and 8pm for Melbourne metro locations and between 8am and 5pm for regional locations.

If your order was placed before noon you and your delivery is within Melbourne metro, you are eligible for same day delivery.

You will have the option of choosing your delivery date when placing the order.

We do not currently deliver interstate or internationally. Please contact us for regional delivery quotes.
Where do you deliver?

We offer shipping throughout Victoria metro and regional.

Victoria metro orders placed before noon are eligible for same day delivery between 2pm - 8pm whereas regional locations will receive next day delivery between 8am and 5pm.

Please ensure you are able to receive your order upon delivery.
Is shipping free?

YES! We offer free shipping on all orders above $199.

For orders below $199 we charge $18 for shipping throughout Victoria.