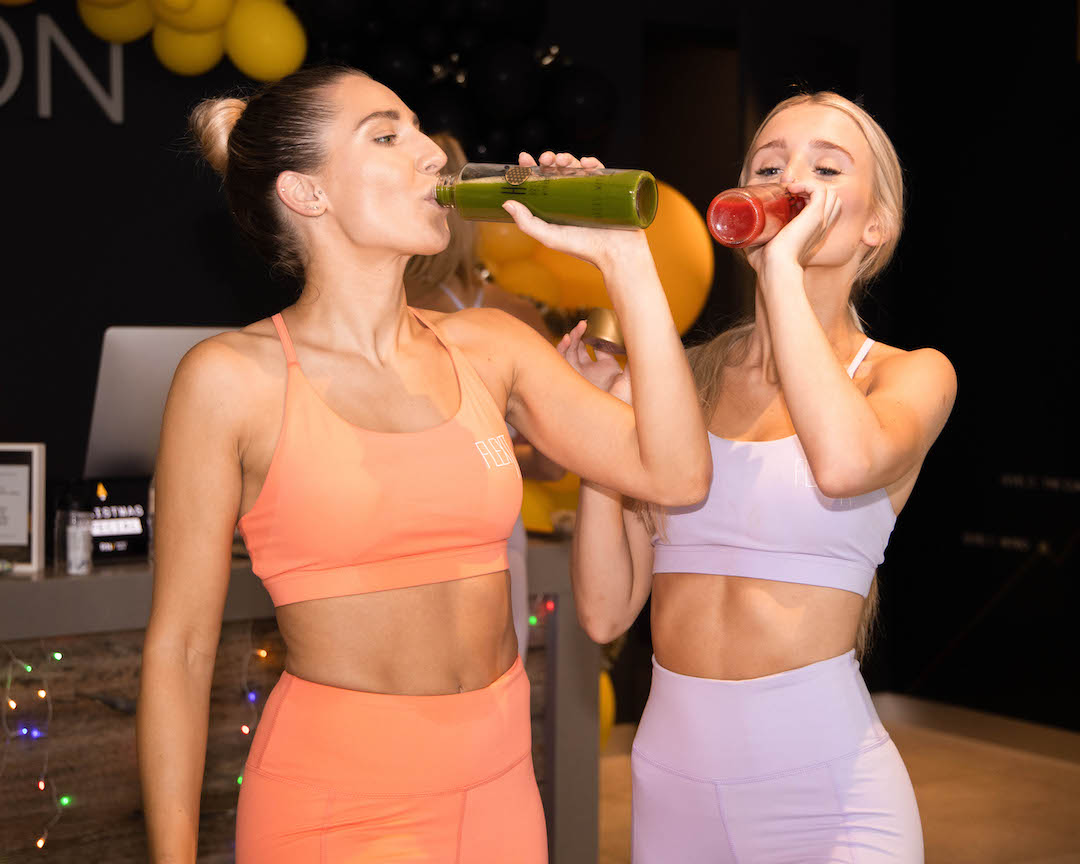 Detox and Rejuvenate! with Melbourne's favourite juice cleanse!
Welcome to Home Juice, the best organic cold-pressed juice company in Melbourne. We craft premium, cold-pressed juices, wellness tonics and Kombuchas that bring balance to your busy lifestyle. It is our mission to help you achieve your wellness goals in an easy, convenient and refreshingly delicious way.
Our unique blends are made from locally sourced, organic produce and are free from preservatives, additives, and artificial sweeteners. There are no nasties added at all. Every juice, tonic or Kombucha we sell is packed with unadulterated nutrition, just as nature intends it to be.
Shop Cleanses
If you have been wanting to try out a juice cleanse at home, but are not able to prepare fresh pressed juice daily, then these packs are just for you. These bestseller packs have been designed as per recommendations from our in-house nutritionist, to deliver specific benefits based on what it is that you are looking for.

Nutritionally dense and packed with natural flavour, these packs are available in convenient daily packs of 7 juices. You can choose to have your juice cleanse packs delivered anywhere between 1 day to 7 days.  
8 Reasons why HOME is the best juice cleanse in Melbourne
Recycle & Save

Get $5 off your order for every cooler bag of clean bottles that you return.

More Info

Organic

We only use locally sourced fresh fruit and vegetables for our juices ensuring proper nutrition

Delicious

Our juices have a reputation for being "surprisingly delicious and satisfying"

Value for Money

No one gives you better value for money than Home! More juice, more goodness and better taste.

100% Vegan

We are the only 100% vegan juice bar in Melbourne. No nasties & no animal products - just raw, non-pasteurised plant based nutrition. Our juices have 4x more nutrition than off the shelf juices.

Daily Freshness

We run our production in small batch and all bottles are hand filled. Meaning our product is 100% Pure with very limited shelf life.

Superfoods

We boost our individual blends with Superfoods such as Activated Charcoal, Spirulina, Cayenne Pepper, Schisandra, Maca, Mesquite, Cacao, Goji Berries, Chia seeds and many more.

8 items / day

We provide 5 Juices + 1 Alkaline Water + 1 Almond Nut Mylk smoothie + 1 Probiotic Shot.

More items per day than any other juice cleanse company. You won't feel hungry!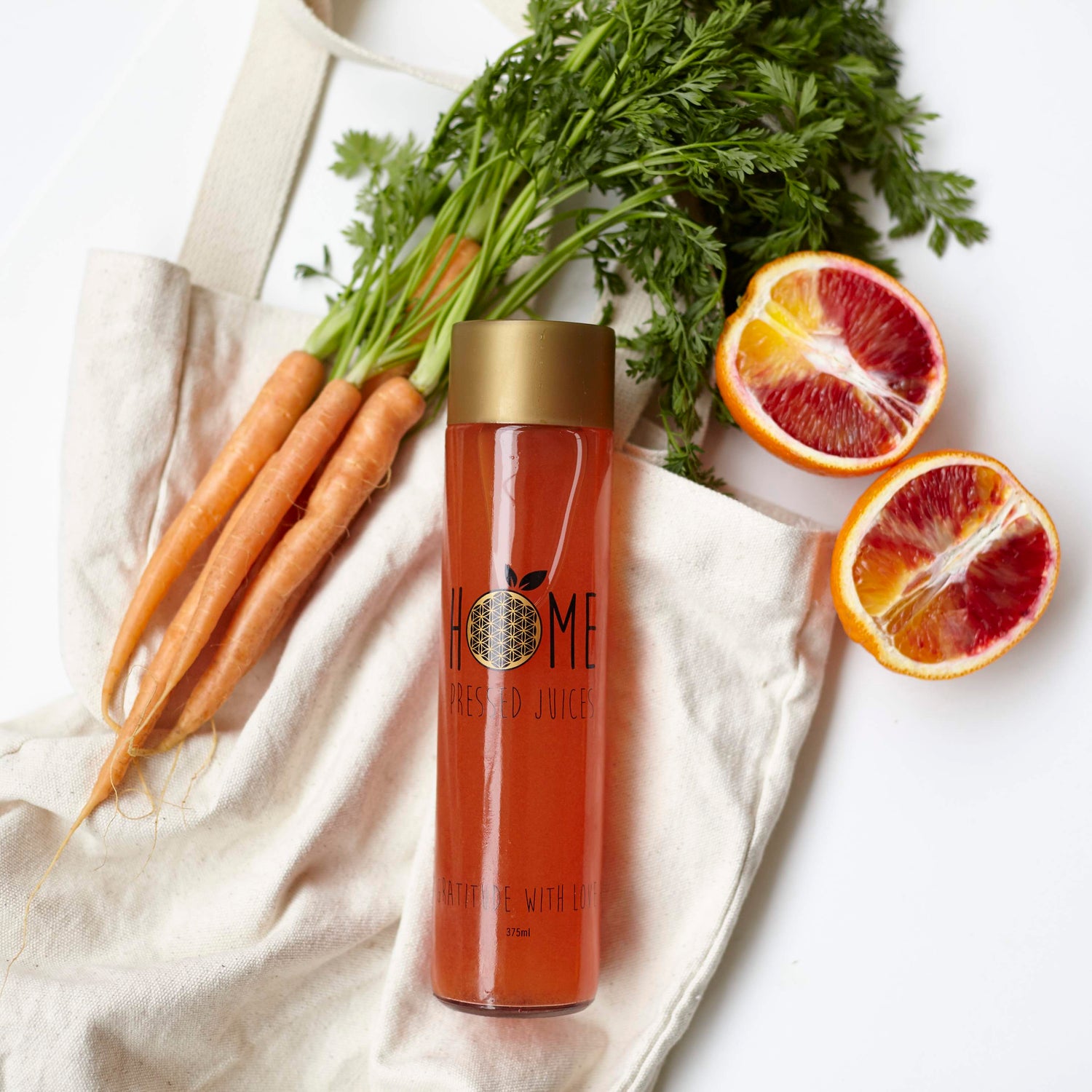 Juice Cleanse
The best way to detox and reset your body! Juice cleanses help to reduce gut inflammation and remove toxins from within your body, leading to improved digestion, weight loss, better mental clarity and heightened focus.

Crafted from locally sourced, organic produce, you will be amazed at how easy detoxing can get.

Start Your Cleanse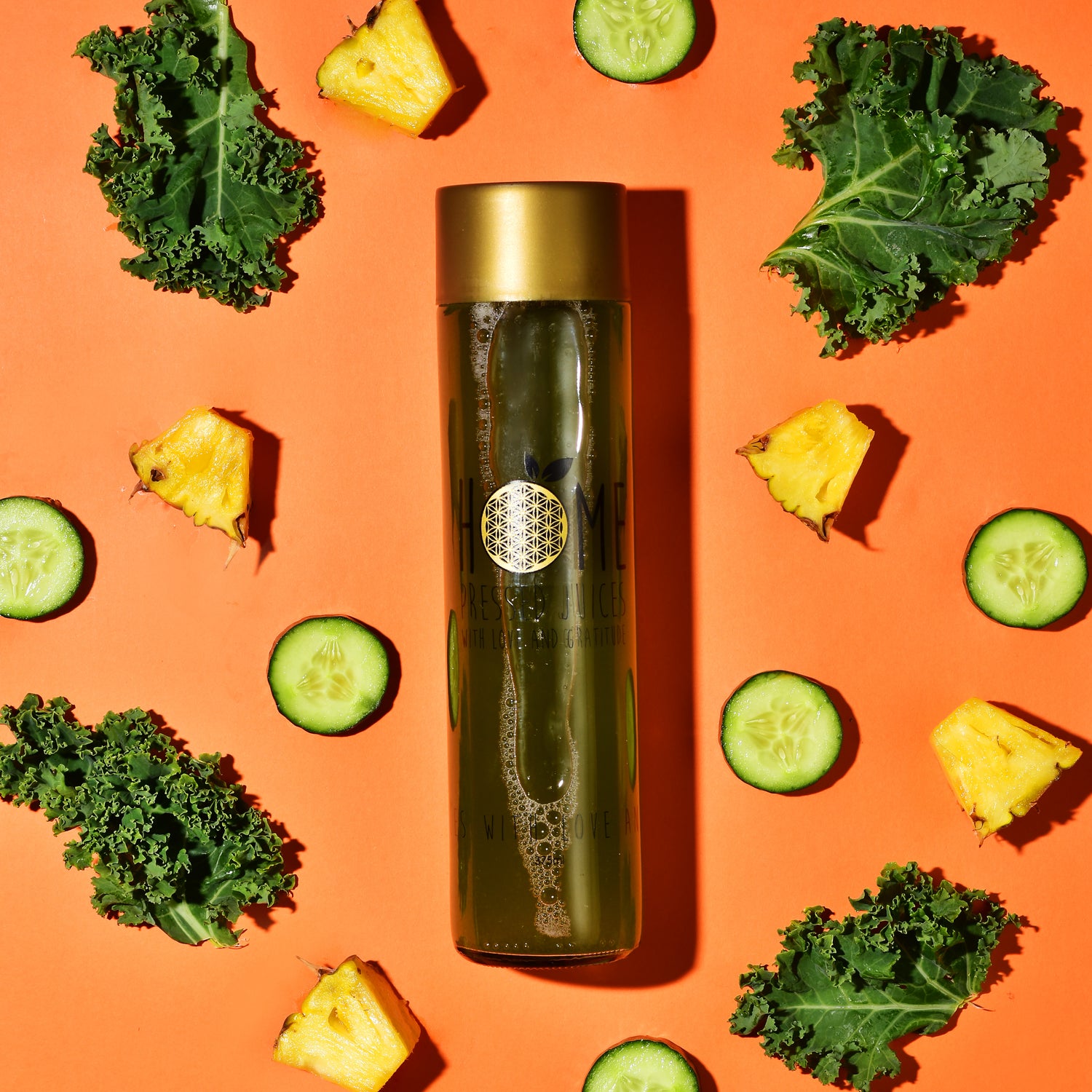 Daily Juices
Home Juices go great as part of your regular diet. If you're not looking to do a cleanse, these daily juices are a perfect way to stay on top of your nutritional intake and keep you feeling at the top of your game.

If your busy schedule doesn't leave you with adequate time to focus on your nutrition, these juices will leave you with no excuse!


Shop Juices
Kombucha
A living probiotic that happens to be a blissful refreshing sparkling burst flavour and energy. The best hangover cure AND world's best mixer, all in a bottle.

Kombucha is great for gut health, digestion and a refreshing alternative to sugar-laden soft drinks.

Get Fresh Kombucha
Why Cold-Pressed Juices?
Cold-pressed juices are much more than just a passing fad. They offer real value over traditionally juiced juices, that use heat and oxygen that chemically downgrade the nutrition you receive. In comparison, cold pressed juicing is able to retain the maximum levels of vitamins, minerals and enzymes without compromising on the colour and flavour – so that you get the complete benefit of all that goes into it.
Crafted through a meticulous process, our cold-pressed juices are the next best thing to home-pressed juices. Each bottle of fresh juice delivered to your home is brimming with the potent benefits of raw vegetables and fruits.
Superfoods: For Added Super Power
Home Juice is the only healthy juice co that includes added superfoods in its juice blends. We believe in packing every bottle with as much nutrition as possible. Having said that, we do not just add superfoods, we carefully select them on the basis of what they can add to your health, as part of the blend.
Activated Charcoal: Detoxifies and purifies with its potent cleansing properties.
Spirulina: A powerhouse of protein and antioxidants for overall wellness.
Cayenne Pepper: Stimulates circulation, boosts metabolism and aids digestion.
Schisandra: An adaptogen that increases resistance to stress and disease, and promotes overall vitality.
Maca: This Peruvian powerhouse is great at enhancing energy, mood, and memory.
Mesquite: A sweet, nutty superfood, rich in protein, minerals like calcium, magnesium, iron, amino acids and micronutrients.
Cacao: Packed with flavonoids for heart health and rich in antioxidants, the delish addition of cacao delivers an instant mood boost.
Goji Berries: A superfruit enriched with vitamins, minerals and antioxidants, offering immune support and vitality.
Chia Seeds: Loaded with Omega-3 fatty acids and fibre, chia seeds promote digestion and give an energy boost.
Daily Juice Packs - Subscribe & Save
If you have already decided to invest in your health regularly, whether it is an at-home juice cleanse or a nutritional boost, you could also opt for a subscription of our fresh, cold-press juice packs. This way, you can continue to get a fresh supply of juice packs delivered to you, for as long as you want. These are no-obligation subscriptions, and you are free to modify or cancel anytime you need to.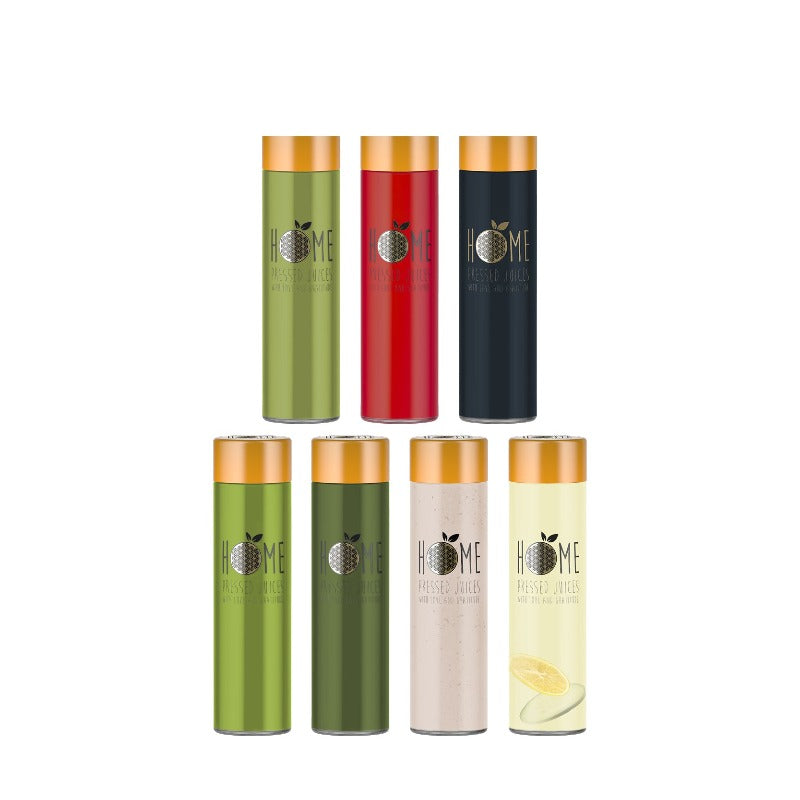 Clean & Lean Organic Juice Cleanse
Regular price
Sale price
$79.00
Unit price
per
Sale
Sold out
Promotes weight loss and glowing skin

Equivalent to 30 organic veg and 24 fruit servings per 3 Day Program

Daily 5 juices, 1 alkaline water, 1 Almond mylk (375ml bottles) and 1 Wellness Tonic Shot (40ml)
View full details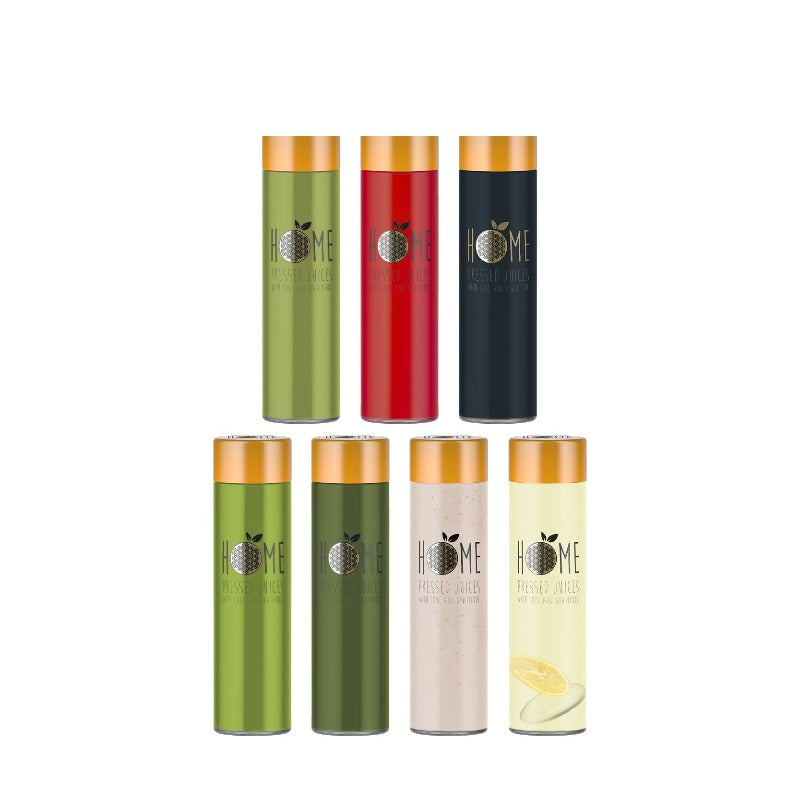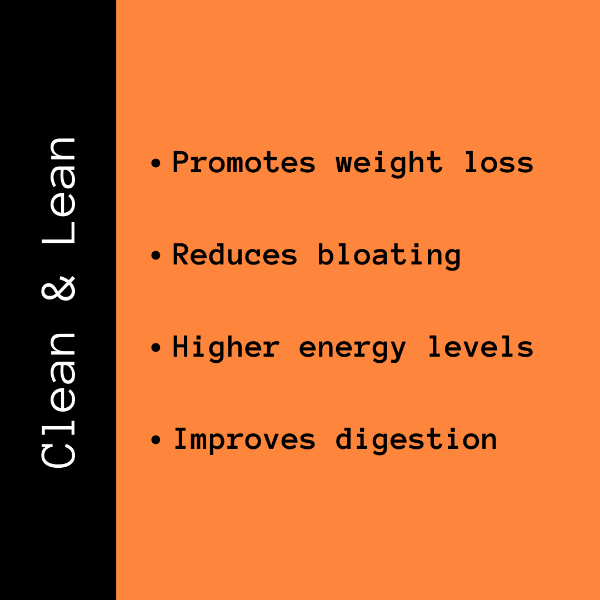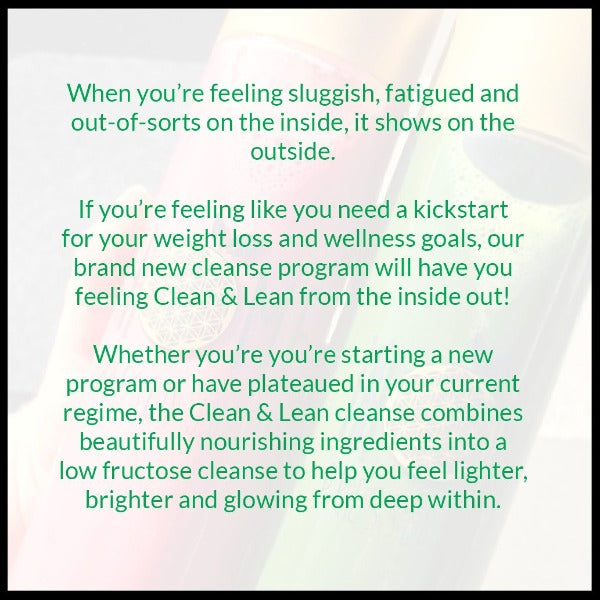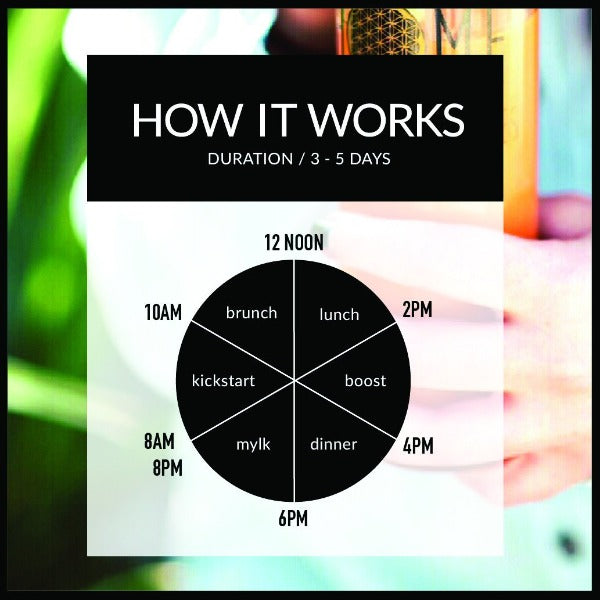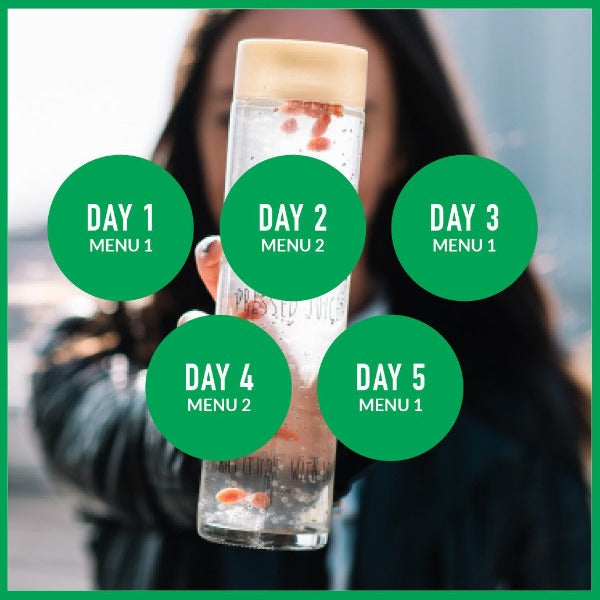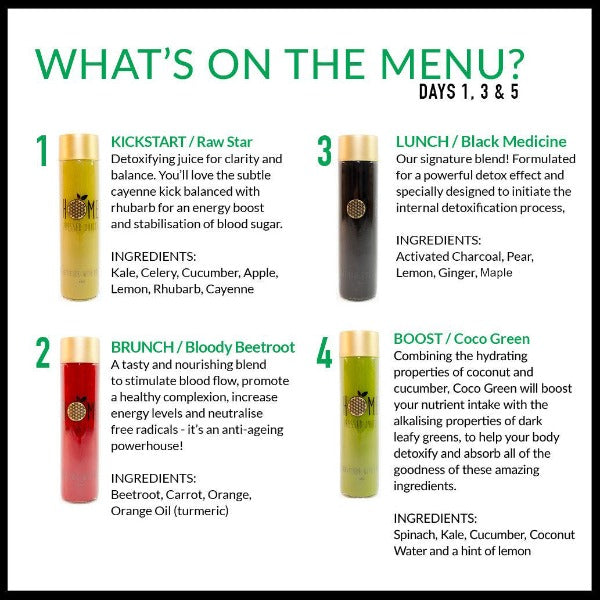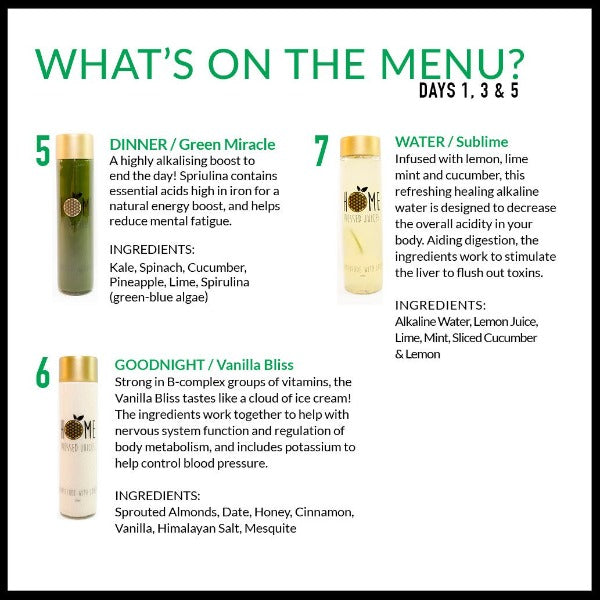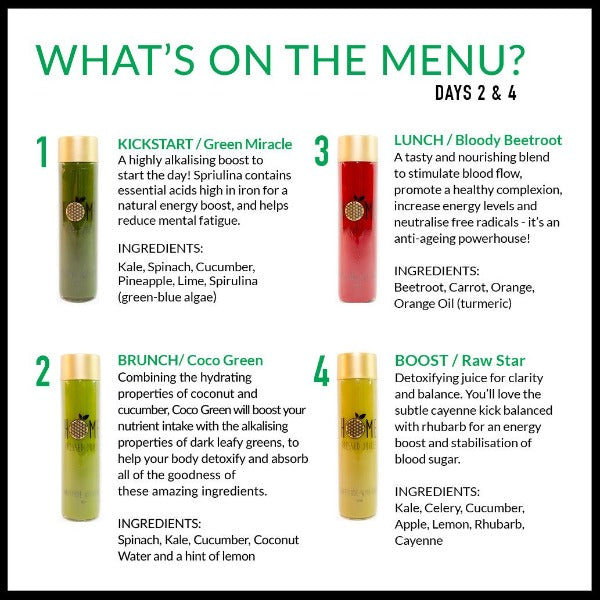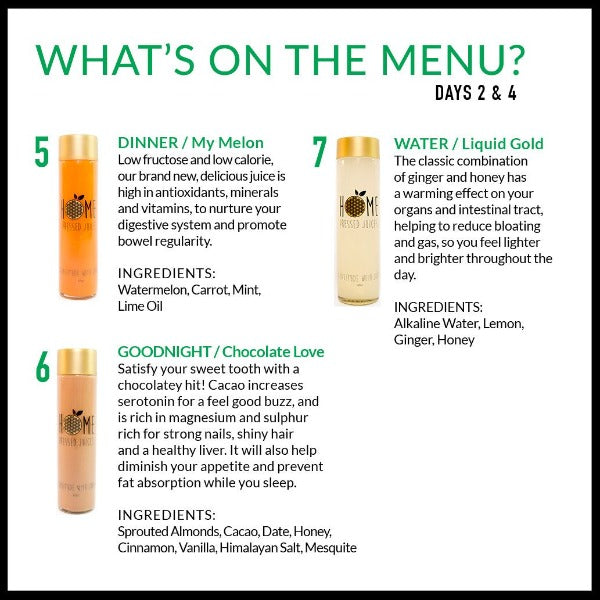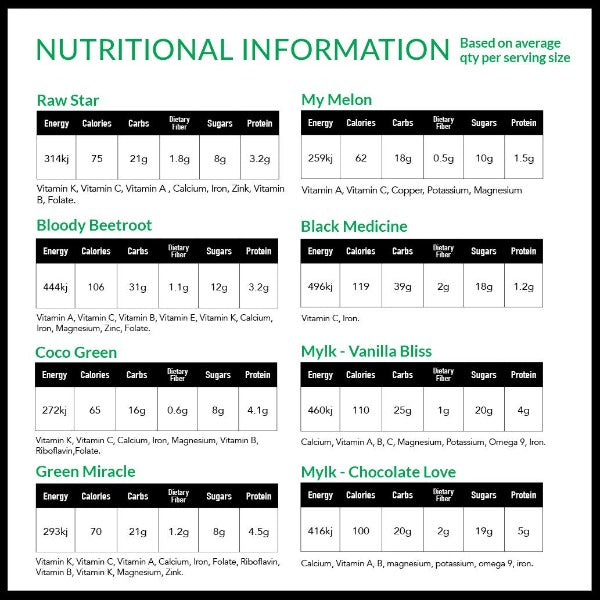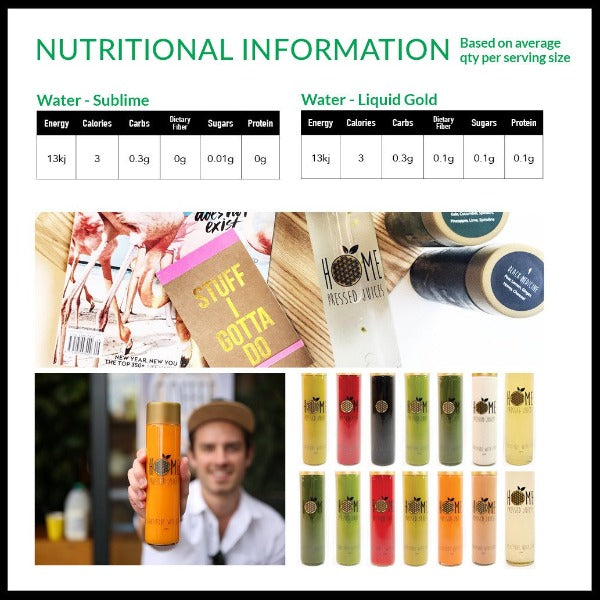 Home Juice – Powering the Fresh Juice Culture in Melbourne
At Home Juice, we are not just a juice bar near you – we are a revolution in a bottle! Our juice cleanses are not only nutritious, but surprisingly delicious. We would love for you to experience the difference, with our at-home juice cleanses, nutritional juices and probiotics, handcrafted for your wellbeing and vitality. You are sure to earn some good health karma by opting for a regular juice cleanse.
As your partner in wellness, we encourage you to try out our detox-promoting cleanses delivered to your doorstep. If you are looking for a Melbourne juice bar online to target your wellness goals, our juices are the way to go!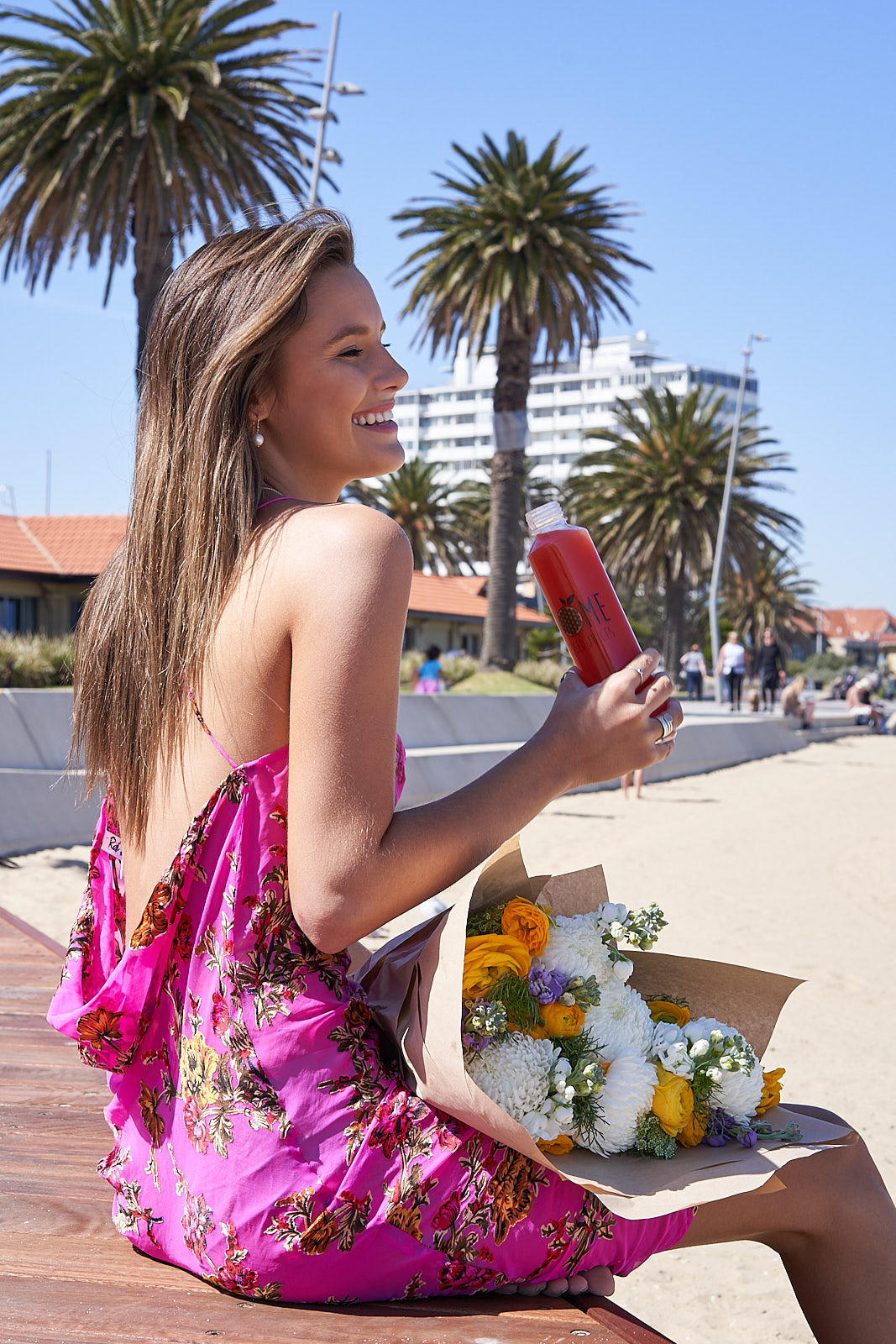 "I Felt Amazing"
- I felt amazing after the 3 day cleanse! And the juice was so tasty which made it easier to stick to the juice diet. Yum! Going to cleanse once a month!!
Viviana F.
FAQs
Do you accept returns?

Due to the perishable nature of the products, we cannot accept returns.

If you have encountered the product to be damaged or not in a state to be consumed, please contact our store on 1300 464 729 (1300 GOH RAW) for any further discussion.

Please ensure that you are able to collect and refrigerate the products as soon as they have been delivered to ensure freshness.
How do I get my cleanse?

All of our orders come with cooler bags to maintain a cool temperature while in transit. We have two options; store pick up or delivery via courier.

Delivery - We deliver Sunday - Thursday between 2pm and 8pm for Melbourne metro locations and between 8am and 5pm for regional locations.

If your order was placed before noon you and your delivery is within Melbourne metro, you are eligible for same day delivery.

You will have the option of choosing your delivery date when placing the order.

We do not currently deliver interstate or internationally. Please contact us for regional delivery quotes.
Where do you deliver?

We offer shipping throughout Victoria metro and regional.

Victoria metro orders placed before noon are eligible for same day delivery between 2pm - 8pm whereas regional locations will receive next day delivery between 8am and 5pm.

Please ensure you are able to receive your order upon delivery.
Is shipping free?

YES! We offer free shipping on all orders above $199.

For orders below $199 we charge $18 for shipping throughout Victoria.